Custom Show Boards & Posters by Palmieri Concepts
The #1 Custom Showboard & Car Picture Company
Palmieri Concepts is a small business that prides in customer satisfaction. Each and every one of my works of art are custom done just for you with the intention that it would be something that I would display on my own walls. Many of the custom pictures I create for my clients can be seen displayed at my home. My main focus is to create something that is unique and reflects exactly what the clients is looking for.

Thank you for visiting my web site and contact me with any questions.
Sincerely,
Anthony Palmieri
Palmieri Concepts designs museum quality showboards, display boards, and posters that incorporate custom artwork using photographs of your vehicle, making it unique and personalized just for you.
Our boards will make your vehicle stand out from the others!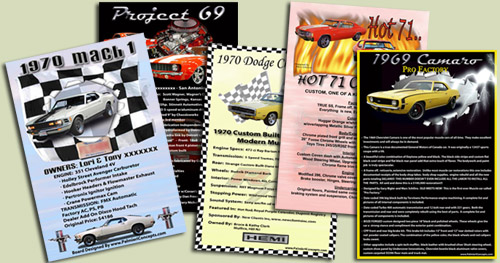 Make your vehicle stand out at the next car show, and complement it with a "real" museum quality show board!
Select a design option and size to meet your needs and price range
We are the home of the Famous
"Museum Plaque" Show Boards
The "Highest Quality Board Available"
This is the top of the line "very high quality," heavy-duty museum quality plaque. The artwork is mounted on 3/8" thick plaque with a special low glare satin finish UV coating and a nice beveled edge, 20x30 size approx. weight is 8 lbs. This is the board selected by most of our clients and can be seen in museums and as part of many high end displays. This board is manufactured by Artiplaq, a company well know for mounting high end museum artwork. Sizes from 8"x10" to 24"x36" and even up to 4 feet long available.

Also available are our long time Classic series board

High quality, economical, and light weight. Same high quality artwork used on our museum plaques, printed on photo vinyl and mounted on sintra (a semi-rigid (bends and will not crack or crease), light weight Plexiglas type board) with a protective low glare satin/matte (not gloss) finish UV laminated surface. 20x30 size approx. weight is 2 lbs. 11x17 is great for placement in your trunk or on the dash. Sizes from 8"x10" to 20"x30" available.
Copyright 2005-2010 by Palmieri Concepts. All rights reserved. Protected under both U.S. Federal copyright law and international treaties. No part of this site, including text, images and computer code, may be reproduced or copied in any form or by any means, electronic, graphic, digital or mechanical, including photocopying or information storage & retrieval systems, without the express prior written permission of Palmieri Concepts. The only area that may be reproduced are the publications that expressly state that they can be copied. They must be used in their entirety without any changes, and provide a reference to www.PalmieriConcepts.com, and credit the author.
-Custom Show Boards, showboards and Pictures by Palmieri Concepts Design Studio-